V-Art, a platform for digital art assets, is introducing a new protocol for digital licensing protocol for Web3 thanks to its distinct blockchain technology that supports smart contracts, proof-of-stake, and is carbon neutral. NFTs can be created by artists to sell digital art on V-Art's NFT Marketplace faster, more securely, and for less money. This suggests that any creative, tech or luxury brand can benefit from a better method of monetizing creative digital assets through blockchain-powered licensing. You can start licensing and selling creative digital assets on your own terms with the help of the white-label solution provided by V-Art.
Regarding the launch on V-Art, Nicky Chalabi – NEAR Foundation Ecosystem Team, emphasizes: "I'm truly excited about what V-Art Digital does and its passion for art. I personally believe that art has the power to illuminate, educate, inspire and bring harmony. Art creates a new reality and is a profound expression of the thought of an artist.
To list and exchange digital assets in the form of NFTs, a private, white-labeled NFT marketplace was developed. One of the NFTs described might be any digital asset, including works of art, movies, photos, the metaverse, and other digital treasures. For exchanging goods and services, the NFT marketplace functions as a ready-to-use NFT marketplace. The platform can be altered to accommodate the unique requirements of each client's enterprise. Users swap NFTs for crypto in the market after developers release their NFTs in an auction or open bid in accordance with their preferences. Clients can tailor a white-label NFT marketplace depending on their business needs to grow traffic and build a reputation for their marketplace.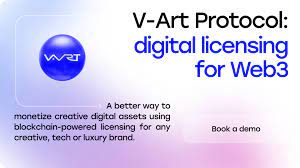 V-Art Protocol with Web3 licensing
Source: https://www.facebook.com/V.Art.digital/
All relevant capabilities and traits are present in the new technology. Users gain from a marketplace's and a digital wallet's simplicity. Even if they have already registered for one, users of the marketplace can still link their current digital wallets with your trading platform. The goal of V-Art is to promote and profit from a fresh wave of digital creativity on Web3. By fusing legal, technical, and fiscal solutions into a better standard for using any creative digital asset with IP rights—the V-Art Protocol—we are enabling our objective.
The benefits of V-Art Protocol include:
Any creative digital asset's ability to be commercialized as an NFT with IP rights.
By licensing any asset across many platforms and sectors, you can generate additional income.
Verify, protect, and monitor IP rights using the available blockchains.
IP rights management for any creative digital content are made simpler and more affordable.
Connect the protocol to any platform, website, or online store.
Anastasiia Gliebova, CEO & co-founder of V-Art, comments: "V-Art revolutionizes the way we operate with creative digital assets. We combine NFT marketplace and IP rights to trade and manage digital assets, so it is crucial for us to work with such a flexible tech infrastructure… Staying in tune with the long-run trends of the digital sphere, we believe that this launch will impact the future of the contemporary art market in a sustainable way."