Today, businesses are operating in a fast paced highly competitive environment. This factor has made a big impact on the way companies garner new customers and retain ones you already have. In the past, a vivid headline or flashy slogan was already enough to buy in a client, however, the traditional advertising methods and techniques don't appear to be as efficient as they used to be. If you want to capture your audience's eye, you need to lay out the benefits your product or service has. And this is only the beginning. The market is already highly saturated with new products and services, so your brand has to be creative to get noticed. There are many ways to do that, though there is no one-method-fits-all solution. While preparing for the presentation of your product or service, start with researching your customers' preferences. This will help you find the right direction to streamline your efforts into. And the following tips will explain how you can do that.
Tell a Story
Many experts make a common mistake of focusing their efforts to sell a product or service. Yet, the right approach is to sell a solution to a problem your potential client is experiencing. Storytelling is the easiest and most efficient way to communicate your product's value in a way that will stay in your audience's memory for a long time. Instead of highlighting different features and functionalities of your product, explain how it can be of practical use for the customer. Usually, telling a story implies a character and powerful emotions, which contributes to a greater engagement.
Send a Creative Email Package
We live in the digital era, which equips us with many convenient tools we should not overlook. Preparing and sending out a creative promotion package that provides a detailed presentation of your product or service is a great way to grab attention and stand out. On the bright side, you can share this package not only with your prospective customers, but with journalists and media representatives as well: it will definitely work better than a dull press release. Remember, that visual content is the powerhouse. Try to avoid using too much text and focus more on the visual side. Don't forget to utilize special graphic design tools to add a professional touch to your content: start with a free business card maker for example. They will fit perfectly into your presentation email package.
Create Something Using Your Product
 They say, seeing is believing, and I can't agree more. To persuade you customers that your product is worth their attention, develop something using your product or service. It can be anything from a solution your own company needs to some to charity activities.  The key point here is that in such a way you can demonstrate your product's or service's capabilities with practical examples.
Create Interactive Online Classes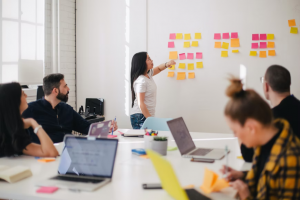 A very efficient method to spark a client's interest into your product or service is to educate your audience with the help of exciting interactive online classes. Make sure they are available both for current customers and prospective ones. By allowing people to see the advantages of your product or service in combination with new knowledge and experience is a sure way to get positive feedback.
Market to Your Regulars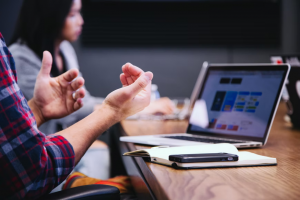 Your existing customers, especially regular ones, are your stronghold. They are already familiar with your brand, its mission and values and have trust in it. All these factors make them a perfect audience to present your new products or services. And if you find the right approach to do it, your current customers will spread the word further to their communities.
Run Targeted Ad Campaigns across Social Media
 Paying to get in front of your target audience by leveraging targeted social media advertising campaigns will create the meaningful awareness needed for a successful launch. This option is absolutely worth every dollar you spend on it.
Post Funny Videos on Social Media
People use social media to cheer up and get distracted from everyday routine. You can benefit from this by presenting your product or service to the customer with the help of humorous and entertaining videos. The common perception is that if a brand can joke about its products and services, they are 100 percent sure about their quality and effectiveness.
Partner With Influencers
Collaborating with influencers is a very effective way of showcasing the product or service your brand recently launched. A lot of customers find the option of influences they are following to be reliable and trustworthy.
Wrapping Up
You know better than anyone else in the world that you offer a fabulous product or service that is great value for your clients. The vital thing here is to find the right way to tell them about it. If you have explained it and demonstrated it efficiently, there comes a time when many customers will want to purchase it.